The Seas Are Rising, So Are We!
Dear friend,
We hope you have not yet melted from the sweltering heat, as Singapore experienced record temperatures this month. Extreme heat waves across the globe have become so widespread and common, but many places lack the funds and resources to adapt to it, putting marginalised communities at the highest risk. The recent heatwave in India and Bangladesh was made 30 times more likely and 2ºC hotter due to human-induced climate change. As we suffer from the increasingly dire effects of climate change, it is clearer than ever that fossil fuels need to be phased out immediately. Our systems have evolved and continue to be capable of evolving drastically when enough people call on governments, policy makers, and corporations to do right by our planet. We still dream of past days where the weather was less erratic and going out at 10am would not give you a heat stroke. 
What can we do about it? Well, for a start, you can join us at our first physical rally since 2019! Happening on Saturday, 23 September, 3-7pm at Hong Lim Park, we're putting together an exciting range of speakers and activities. Come and rally for climate justice, and a liveable future for all of us and future generations to come!
For a better world,
SG Climate Rally
We'd like to thank our friends from Workers Make Possible for giving us a table at the recent Labour Day Rally to share about how climate and labour concerns are interconnected! Have a look at a Tiktok video we made documenting the day:
Tiktok failed to load.
Enable 3rd party cookies or use another browser
We've also compiled some resources and points that we shared at the rally: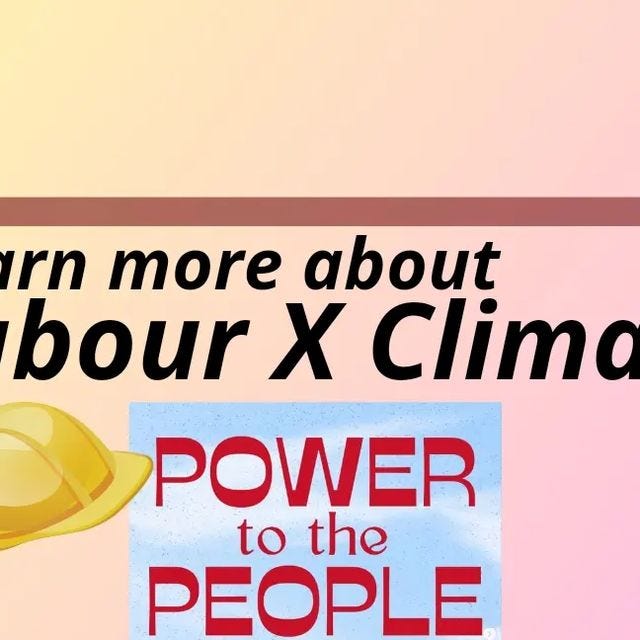 SG Climate Rally on Instagram: "Missed the Labour Day Rally? Here's some info from our community booth on how climate and labour issues are closely related! We are heartened by those who showed up at the rally and visited our booth. Let's continue fighting for the future that we envision while not forgetting the blood, sweat and tears shed by the workers who have built Singapore. We stand in solidarity with all workers and hope that we can all work towards achieving the 15 demands outlined during the rally. Happy Labour Day! View the full demands at workersmakepossible.com/labourday23/"
We also published The Case For Climate Justice on our blog, highlighting how the fight against the climate crisis entails building a movement that seeks justice for all. This means winning over people who are undecided or even disagree with you, by showing how the climate crisis affects everyone, especially marginalised communities, and that those who are most responsible for climate change should bear the cost.
Global News
🥵🌇The World Meteorological Organization said in a new report that there is a '98 per cent chance' that a new record temperature will be recorded globally by 2028, and a '66 per cent chance of breaching the 1.5 degrees Celsius threshold set out in the Paris Agreement. This is exacerbated by the El Nino weather phenomenon, where warmer waters in the tropical Pacific heat the atmosphere above, leading to warmer temperatures. This comes as record heatwaves have scorched much of Asia in the past few weeks, which scientists said was made '30 times more likely' due to climate change. 
👋🗞️The CEO of Verra, the world's leading carbon credits certifier, announced that he would step down in June. This comes amid increased scrutiny of Verra's standards following an investigation by several newspapers and non-profits that found their credits did not have the stated impact on conserving rainforests that Verra claimed they had. 
Local News
🇸🇬🥵Singapore has not been spared from the heat. On 13 May, a joint-record high temperature of 37 degrees Celsius was recorded in Ang Mo Kio, matching one set in 1983 in Tengah. It is a record high daily temperature for May. Cooling showers have helped to alleviate the heat since then, but more warm months lie ahead, along with a higher risk of haze. Watch this video to learn more about why Singapore's weather fluctuates so much (hint: climate change plays a part):
☀️🔋The Sun Cable renewable energy project has been fully bought over by part-owner Australian technology entrepreneur Mike Cannon-Brookes. The project included a proposed plan for a 20 gigawatt (GW) solar farm in northern Australia to send electricity across a 4,200km long undersea cable to Singapore. It had previously been placed under administration in January after its owners had failed to agree on future funding plans. The Energy Market Authority (EMA) said it is discussing further with Sun Cable on the proposal.
🏠🌏You may have heard about the recent saga over how two of Singapore's Cabinet ministers live in large colonial bungalows. While much of the discussion has been about whether proper procedures were followed, Jolene Tan points out that even if everything was above board, the question is how much is too much. She neatly connects the issue with climate justice, asking if there is room for such disparities in consumption when we are reaching the limits of the planet's capacity to support us all?
❌💸According to the Monetary Authority of Singapore, a public consultation will be launched in the next few weeks on additional criteria for the managed phase-out of coal in the Singapore-Asia taxonomy. The taxonomy will classify different activities' contribution to climate change mitigation on a traffic light system, with those in the "red" tier that are deemed to cause "significant harm" not eligible for any green or transition financing. 
🙋🌐Lastly, those interested in getting involved in climate action (other than joining us of course ;)) can apply for a new Climate Youth Development Programme, co-organised by MSE, NCCS, and NYC. You'll get to engage policymakers, connect with fellow youths interested to take climate action, and apply to be a youth delegate at COP28! Apply at go.gov.sg/cydp
Thanks for reading our newsletter! Subscribe for free to receive new posts and support our work.
🥵🏗️Experts have opined that a lack of cloud cover, together with the effects of climate change and the location of the weather station recording the temperature in an urban area with typically high daytime air temperatures, lots of heat-absorbing artificial materials like concrete and asphalt, absence of vegetated areas and lack of shade could have led to the record-high temperature in Singapore. In a commentary, two scientists from NTU's Asian School of the Environment notes how the urban heat effect caused by increased urbanisation has contributed to Singapore warming up twice as fast as the rest of the world, and there is a need to consider preserving more green and blue spaces to bring about more cooling effects in urban spaces.
📹🌏A new media studio called Yellow Dot Studios, founded by Don't Look Up and The Big Short director Adam McKay, has been set up to produce videos aimed at combating climate disinformation by fossil fuel companies and climate deniers. Have a look at one of their videos:
🧑‍🔧💡The move towards greener energy will require many electricians to install the necessary infrastructure. However, a growing shortage of electricians (both in the US as well as locally in Singapore) threatens such plans. Danielle Renwick from yes! magazine notes that electricians are overwhelmingly male, and it may be time to offer tax incentives and training programs to attract more women towards trades in general. Problems persist in terms of a lack of fair wages for skilled tradespeople, but for it to be a truly just transition, efforts should be made to diversify the people in the field.
🧑‍🌾🪴The farms near Lim Chu Kang will have to move out by December this year, due to the government repossessing the land for the development of military training grounds. What's next for them? This CNA On The Red Dot episode gives a good glimpse which may be a trip down memory lane for some people: