Myths, Migrations and Monsoons
Dear friend,
What does a 'nation' mean to you? Do you think of the physical boundaries of the country you live in? Your friends and family? Or the culture you grew up in?

On 9 August, National Day, we debuted our new editorial theme, 'Myths, Migration, and Monsoons'. Over the next few weeks, we'll be examining the myths that have been used to justify several notions about our nation, and rethink Singapore's connection to our natural environment and the history of the land beyond our borders.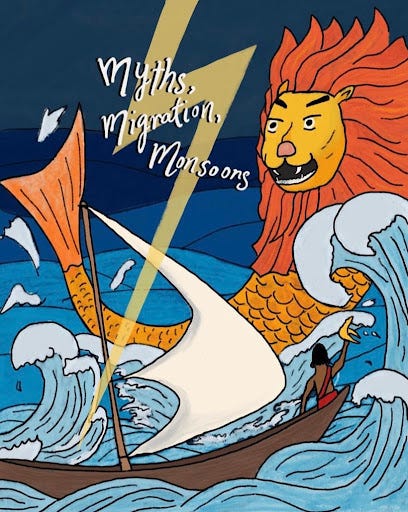 We are also in the midst of the southwest monsoon season, part of a regional climate system that has shaped the paths of human migration for hundreds of years. As the climate grows more erratic, we may see greater numbers of climate refugees in the future, leading to conflicts over resources in countries. Therefore, we need to examine the idea of our natural borders and who 'belongs' to a nation.

As always, we welcome your contributions. Drop us a message if you have any ideas!   For a better world,
SG Climate Rally

Have you ever heard someone say "Why care so much about the future, care for ourselves now"? We hear many times that since the worst effects of climate change will only be felt in the future, we should focus on more pressing problems now. 

This is a myth that we examine in "The Climate Crisis Hasn't Arrived". Far from something that will happen in the future, we are seeing the effects of climate change in the here and now. The spate of more and more extreme weather events happening over the globe are a large red flag that we cannot ignore. But why do people still think we don't need to act? There are some psychological reasons such as 'climate doomism' and how we 'discount' the future, amongst others. To pierce through this myth, our activism must adapt to these realities.
Global

The US Congress passed the Inflation Reduction Act, a sweeping bill that includes $369 billion of funding for climate and energy measures that aim to reduce emissions by 40 percent by 2030. It is the biggest investment in clean energy sources in US history. However, critics pointed out measures that were linked to boosting oil adn gas production were included to entice Democratic Senator Joe Manchin, who had been a key holdout, to vote for the bill. More information on the measures can be found here.

Meanwhile, monsoon rains in Pakistan have inundated vast parts of the country, with the southern Sindh and Balochistan provinces worst affected. More than 1,000 people have been killed and millions more displaced. The European Space Agency claimed that the rainfall was 10 times heavier than usual. 

In South Korea, the heaviest rains in more than 100 years led to severe flooding in Seoul, killing at least nine people. This included a family of three who lived in a semi-subterranean home called a "banjiha", which was made famous in the movie Parasite. As a result, the government announced that they would outlaw such housing in the future. And in China, the record heatwaves that have been ravaging China over the past few months gave way to rains, offering some comfort to people affected by drought, but also leading to evacuations in Sichuan, Chongqing, Gansu, and Shaanxi provinces. 

Singapore

The National Climate Change Secretariat (NCCS) is doing a public consultation to seek views on how Singapore can work towards becoming a low-carbon country as we consider raising our long-term ambition to achieve net zero by 2050. We've commented on this before when it was announced at Budget 2022. Write in at https://go.gov.sg/reach-pc-climate-2022 before it closes on 26 Sep!

The National Environment Agency (NEA) announced that businesses in Singapore who wanted to buy international carbon credits to offset their carbon tax bill would need to meet certain criteria, and be certified by either of two international organisations, Verra or Gold Standard. The exact criteria is still being worked out.

A survey by OCBC found that baby boomers scored the highest in awareness, adoption, and advocacy of climate action. Gen Zs scored the lowest. The survey measured individual actions such as using air-conditioning, air travel, and taking public transport. 
Does collective action matter more than individual action when it comes to fighting the climate crisis? The oft-cited answer is both matter - but a new report on the usage of private jets by celebrities found that on average, the emissions from their private use is 482.37 times more than the average person's (with everyone's favourite sweetheart Taylor Swift being the most egregious offender). Even if you believe in focusing more on climate action, that's an eye-watering number. Should the climate movement push for the abolition of private jets? We'll leave that for your deliberation.

The debate over whether the climate movement should be for degrowth continues. In this review, Natalie Suzelis places two books with opposing views in conversation with each other: The Future is Degrowth, which puts forth the need to move beyond the growth imperative that has led to the degradation of the environment, and Climate Change as Class War, which argues for the need to focus on building a stronger working class that has the power to fundamentally shift the levers of production towards clean energy, instead of focusing on ideas around consumption (taken as the main driver of the degrowth movement). 

And in the London Review of Books, Geoff Mann reviews several books on the relationship between economic growth and the climate crisis, and sums up the debate in a question: is our current concatenation of crises a product of the current mode of economic growth, or of economic growth per se? In other words, can we shift our model of economic growth (green growth), or must we eschew growth altogether (degrowth)? Mann notes that while advocates of degrowth do recognise the flaws of trying to pursue technocratic economic development to 'grow' the way out of the climate crisis, degrowth advocates will need 'more politics, less programme and a lot of humility' to forge a genuine mass movement which it currently lacks.

Finally, in a timely piece, Charlie Wood reflects on his experience as a community organiser to fight the climate crisis and how it led to burnout, and how his fellow activists also suffered similarly. He sketches out several 'battlegrounds' that activists may lean too much into, and puts forth several ideas and notes the importance of self-care in organisations to avoid burning out. We can't create a better world if we don't have the energy!

Take care and see you again soon!